According to the Guardian, Nicki Minaj is pregnant with her first child.
The rapper posted three images on Instagram, one featuring the caption "#Preggers" and another reading: "Love. Marriage. Baby carriage. Overflowing with excitement & gratitude. Thank you all for the well wishes."
The father is Kenneth Petty, who Minaj married in 2019. "I didn't think it would be as refreshing and calming as it is," Minaj has said of her marriage. "Even if you're not married, when you have someone that feels like your soulmate or someone who understands you, it just makes you feel like you're on top of the world."
Nicki Minaj Is Pregnant And The Daddy Is Kenneth Petty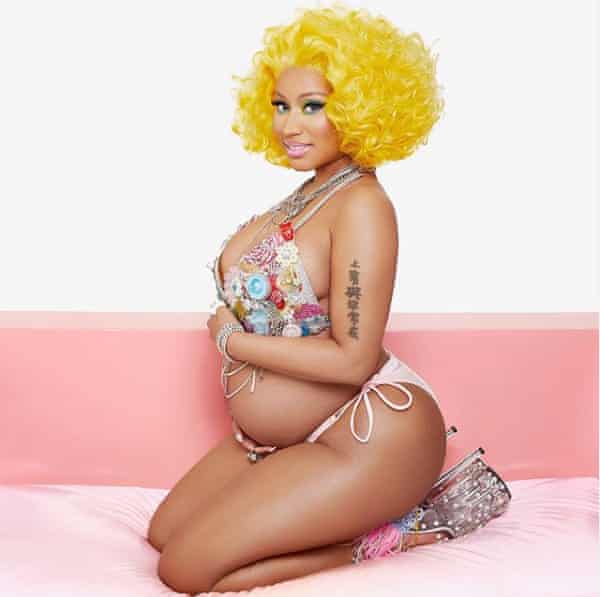 Petty was convicted of attempted rape in 1995. Earlier this year, he pleaded not guilty when charged with failing to register himself as a sex offender after moving to California from New York, with a trial date yet to be set. He served a seven-year sentence for a 2006 manslaughter conviction, stemming from a 2002 shooting.
Having never scored a No 1 hit in the US before, Minaj has topped the US charts twice this year, first in May with her remix to Doja Cat's single Say So, and then in June with Trollz, her track with 6ix9ine. Her most recent album was Queen in 2018.
Over ten months ago, rap star Nicki Minaj announced that she was leaving the music business because she wanted to make family life her priority.
The 36-year-old Trinidadian-born rapper, who grew up in New York and is known for her outlandish outfits, bizarre alter egos and fast flow, made the announcement in a tweet in September 2019.
Over the course of her decade-long career, Minaj has been nominated for 10 Grammys; earned a Guinness World Record in 2017 for most Billboard Hot 100 entries by a solo female artist; and hauled in five MTV Video Music Awards.
Earlier this year Minaj was certified by the Recording Industry Association of America as the first female rapper to officially sell 100m albums and singles.
After signing a music deal in 2009, Minaj released her first studio album, Pink Friday, a year later, peaking at No 1. Her second album, Pink Friday: Roman Reloaded also hit No 1.
Several subsequent albums sold well and she also branched out into appearing in movies; including Ice Age: Continental Drift, and on television, where she was a judge on American Idol.
The New York Times once called Minaj "a sparkling rapper with a gift for comic accents and unexpected turns of phrase. She's a walking exaggeration, outsize in sound, personality and looks. And she's a rapid evolver, discarding old modes as easily as adopting new ones".
She's leaving all that to focus on being a mum.
Congratulations Nicki!
Culled: The Guardian UK
Also read: Hip Hop Billionaire, Kanye West, Receives over $2M Loan from US Government