Just like Wi-Fi to phones, the importance of creative video content ideas in getting your brand to the top can never be overemphasized. Compared to pictures and texts, videos command really high levels of engagement. According to Wordstream, 51% of marketing professionals worldwide name video as the type of content with the best ROI. Marketers who use video grow revenue 49% faster than non-video users. Sixty-four percent of consumers make a purchase after watching branded social videos.
If you want more visibility for your products and services, then video content should be your brand's top marketing priority.
But it is one thing for you to know a strategy to implement and another for you to know HOW to implement it. That is where this article comes in handy. We have put together 25 compelling video content ideas to help you through this journey. Okay, press play!
You Should See These  Awesome Video Content Ideas

• Tell A Story:
As long as your story is real, and inspirational, tell it. Using a video format in telling a story does not only serve as entertainment but a way of connecting your audience in relation to what you are doing. It gives a broader view on who has been behind the screen the whole time, and what exactly the brand is about. It could be a story on how you started your brand, the difficulties you went through before getting to the stage you are now. Take this video content ideas personal because it has high chances of drawing crowds.

•Organize a Q/A Session:
A question and answer session may seem like a big deal until you try it. There has to be an answer when a question is asked, so, this would encourage interactions on your posts. You could decide to either ask the questions or have them ask while you answer. If you would use this out of all the video content ideas, then be prepared to answer even very unexpected questions!
•Sharing A Product Review Is A Solid Video Content Idea
A product review can come in different forms. You could unwrap a delivery from a client and make a video of it. Sharing a product review is one of the easiest and most rewarding video content idea. It also is an opportunity to promote another brand's product.
• Conduct a public poll.
Everyone craves peace of mind. People always want reviews to hold on to, a reason to rely on a brand and all. Feedback from relevant people will do the magic. Take a camera with you on a trip to a restaurant, a supermarket, anywhere. Meet random people and ask questions. Make a video of their responses and share. This video content idea can make your content game just perfect!
•Vlogs:
A vlog in simple term is just a video blog. Instead of typing your views on a site, you rather make a video of you saying those words. A vlog is a very cheap yet rewarding video content idea. All you need to create one is a smartphone with a clear camera, and you! Cool right?
Want to set up a vlog? Read this first!
More Compelling Video Content Ideas 
• Behind the scene sessions:
Humanize your videos to reach your audience on a personal level. Behind the scene sessions give an idea of what a person's everyday life is like. It sort of presents the real you, Use this video content idea to give your audience something different!

• Webinars:
This is a platform for educating and providing actionable advice to viewers. Webinars make it easy for your audience to select what they want to learn from you. It is easy and straight to the point.
•Presentations:
Make presentations at events and official meetings with other brands, record them and make into videos. This gives you an avenue to increase your brand's presence. A presentation is a video content idea that you should take seriously.

•How To Tutorials:
Put out tutorials showing your audience the processes in creating your resource. This gives them something to refer to and try out when they want to be creative.
•Testimonials also make cool video content with high engagement
You can build total trust and belief in the eyes of potential customers when you have testimonies from former ones on your page. Seeing that there are people who made good reviews on your product would encourage prospective customers who are doubting to reach out to you.
• Animations: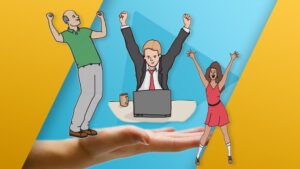 Using animations instead of actual humans is one of the excellent video content ideas as it draws people to click when seen. It is like an indirect notice that the content is in simple language and attractive graphics.

• Video Mails:
Seeing a video attached to a mail in your mailbox screams CLICK ME! A video mail is great idea for creative contents.

•Contests:
You may not understand the magic a contest with cool prices could bring until you try it. All you need is a good topic of interest. Thank me later!
More Ideas For Creating The Best Video Content
• Introduce your employees:
Learn to Introduce your employees to your audience. You would be shocked to know they have always wanted to see the people behind the screen!

•Appreciate your audience
If there was a post you put up which got you a lot of views, make a video appreciating your audience by saying a simple thank you! This is a video content lesson you should embrace.
• Opinions:
There might have been a topic you came across, either related to what you do or not. Film yourself giving an opinion on it.
Provide tips for your audience if there are new tricks and ideas on your product you have come across.
•Interviews make cool video content ideas
Invite a public figure, a person that you are sure should be well known by at least, 50-60% of your target audience. Ask them questions relating to them and/or your brand. You could get them to answer a few questions from the audience as well as it would enhance more engagements. The number of turnouts you are sure to get from this video content idea would shock you!

•Share a list:
If you would like to share a few things from your bucket list, then that would be great!
You have a thousand choices. Maybe a hangout, a meeting, etc.
Make a short video introducing the nature of your job.
If there is a big news you might want to share, make a short video of a tip of the iceberg to keep your audience in suspense.
Bring back a post that earned you a lot of clicks and views
Share clips of how you go about your day at work.
Share some big news concerning your product that your audience would love. Maybe a discount.
Look for the video content idea that works for you and get ready to grow.
Also read: Our Top 10 Netflix Movies For Entrepreneurs Will Inspire You