We love emoji, and we know you do too. But have you ever thought about how they can help your business? Let's talk about it! When you're trying to convey something to someone, sometimes words just aren't enough.
You need a little extra oomph, and that's where emoji come in but not just any old emoji will do! We've been talking about how the WOW effect is a powerful way to engage your audience. It makes an impression, but did you know that using the right one can actually increase your conversions? It's true! If you're looking for a way to boost your business, look no further than your phone's keyboard.
That's why we're going to be taking a closer look at all things WOW effect emoji add to businesses in this blog post. We'll cover everything from how they work, why they're so effective, and how they can be used as a marketing strategy. So let's dive right in!
WHAT IS AN EMOJI?
This is a visual representation of an emotion, object or symbol that can be found in most modern communication apps, such as Instagram, telegram, WhatsApp and Facebook etc. The primary function of emoji is to fill in emotional cues otherwise missing from typed conversation. Some examples are 😂, 😃, 🧘🏻‍♂️, 🌍, 🌦️, 🍞, 🚗, 📞, 🎉, ❤️, 🍆, 🏁, among many others. There are various genres in which emoji exist. They include facial expressions, common objects, places, types of weather, and animals. There are majorly pictures rather than typographic approximations. The term "emoji" in the strict sense refers to such pictures which can be represented as encoded characters. It is sometimes applied to messaging stickers by extension.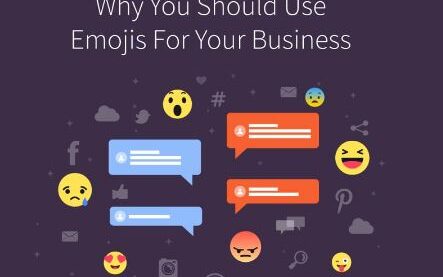 WHY YOU SHOULD USE EMOJIS FOR MARKETING.
A lot of brands on social media now use emoji in their messaging and branding. Studies have equally shown that using an emoji in a tweet will increase engagement compared to messaging without them.
Beyond these statistics, emoji can also help to make your brand more relatable. Add context to your messaging, and appeal to the emotions of your audience on a deeper level.
It gives your brand a human feel
When your audience trusts your brand, they're more likely to recommend you to others and become long-term supporters.
There is this extra level of relatability and personality using emoji in your messaging can add to your brand. You can humanize your brand and relate to your audience by speaking their language with the emoji they use daily in text messaging and personal social posts. On more professional platforms like LinkedIn, this can help your brand stand out in a sea of text posts.
Rather than using them to communicate, you can create more eye-catching lists, or emphasize your posts and headlines with symbols.
It betters your brand engagement
An emoji is fun and engaging hence the reason why people use it to communicate with family and friends. So, when you see your customers as family you will know that you can get to engage them with emoji. They're fun and engaging! It can create a massive boost in engagement for your brand when used correctly. It's clear that something about an them that makes people want to engage. This is because they stand out among text posts and have a friendly, casual appearance. Plus, many social platforms now support searching by emoji so they're more universal than images and video. No matter what channel you're using, adding the right one can boost engagement and lead to a higher conversion rate.
It adds more depth and context to your content
Using emoji in your marketing copy can also add extra context to your messaging. In the same way that an exclamation point can change the tone communicated by your message. That's how adding one can convey emotions that you can't do with text alone. It won't replace good copy but they can work together to add more depth and meaning to your words. Take for instance, twitter has limited character count. This can add extra context and emotion to your message when you can't use extra words.
It encourages two ways communication
When someone wants to get something, the first place they consider is social media. The rate at which emoji's improves communication cannot be overemphasized. Something as simple as a smiley-face emoji can help to break the ice and encourage conversation.
Whether they have a simple pre-sale question or want to talk about a previous purchase. Most consumers turn to social media. Why? Because there is so much ease associated with using it. Social media is easy to access using a mobile phone, without having to make a phone call. Incorporating its use in your social media communication will definitely help cold prospects warm up faster and convert them into clients.
HOW TO USE EMOJIS IN YOUR BUSINESS.
Emoji are a new universal marketing language that you need to learn how to use. They can really help communication. Here are a few easy tips you should jump on to run an effective marketing campaign that will drive conversion. They include;
Add a personal element to your marketing.
Do not overuse emoji
Know when and what emoji to use.
Add a personal element to your marketing
As much as they add a personal element to your marketing, the use must match your brand voice. You should ask yourself a few questions and be sure to have the answers with regards to your brand.
"How does our target audience interact online"
" Do we have a full understanding of the emoji we plan using"
"Does using emoji improve the message we are attempting to convey?"
"How often do we use emoji"
"What emoji does our brand need?"
These are some questions you should ask yourself as advised by John Morgen, Co-CEO of Stillwater Dwellings
Do not overuse emoji
This is because an emoji is a really trendy marketing tool, some brands go overboard. They flood social media posts and email copy with them. Too many emoji, or the wrong type, can create a confusing message. This end up sending prospective customers away rather than pull them in. There is this tendency to cringe when someone see emails with an obnoxious number of wink-face on it.
Know when and what emoji to use
A business, such as a restaurant, can freely use emoji to market. This is because the experience they are promoting is fun and carefree. A business with a more serious service will not use the same emoji as that of the restaurant.
It is very important to use them correctly, and know when to leave them out of your marketing. It is also important to pay attention to your social media engagement on posts that you used an emoji. Also, note those that don't have them.
Every audience is different, so dive into all available data to see how your audience responds to their use. Before sticking a bunch of emoji in your messaging, get to know your key demographic. These are the people you're targeting. While it can be a great way to humanize your brand. Overdoing it may not appeal to your audience and can also alienate them when you don't do proper research.
CONCLUSION
The use of emoji for business has grown in recent years. Now more businesses are deciding to incorporate them into their communication strategies. We have discussed some of the benefits of incorporating emoji into business communication. It is up to you to experiment and decide on how best to actually use them. Go create MAGIC!
We hope you enjoyed this article and found it helpful.
Also Read: https://hustleafrica.com/2021/10/07/growth-hacking-for-startups-in-africa/