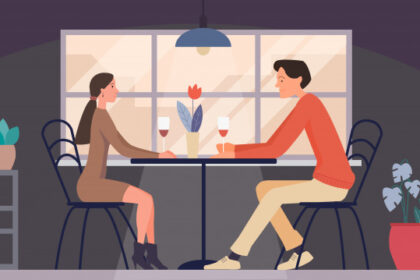 Meeting people for the first time can be challenging for most people. Whereas, going on a first date can be both thrilling and unsettling at the same time. Many questions begin to barge into your thoughts. "Would we like each other?" Or you've asked yourself which direction the discussion will go. Relax. Breathe in and out. As regards the line of discussion, there are funny questions to ask on a first date. You could start from there. They'll help you relax.
Why You Need To Ask Funny Questions On The First Date
You might not be able to avoid these feelings. A rumbling stomach coupled with sudden sweaty palms. Or a push in your steps as you walk towards your date on the first outing. These and many more can be part of what you go through on a first date.
The first meeting means a lot to you both. It will define your relationship. Of course, you've heard that first impression lasts longer. So, I'll bet you want to leave a strong first impression of you.
Impressions On A First Date
First dates can make one nervous. Yet, you want to plan your date to ensure you have a great time and show commitment. But you also don't want to overdo it. Mostly, everyone gets nervous on a first date. And sometimes, the fear of meeting a new date can be more intense.
Good enough, a date is always planned. That is, the meeting you're having wasn't an impromptu. So, there's a good amount of preps you can do to enjoy the date. Apart from the funny questions to ask, you may need to remind yourself that you're beautiful. This will help you boost your morale. Also, this may include meeting at your own time and place. Because the mood is key, asking funny questions will surely ease the tension.
Funny Questions To Ask On A First Date
Funny questions to ask on a first date are not just random questions. They are targeted at making the two people comfortable around each other. So, we compiled a list of 15 funny questions to ask your partner on a first date. When you seem to be at a loss for words, these will help you.
What are some of your worst nicknames?
How would you describe your funniest moments in life?
If you could have a superpower, what would it be?
What is your favourite guilty-pleasure show on TV?
Which type of food can't you live without?
What accent can you mimic?
If you could trade lives with someone, who would it be? And why?
What movie star would you date, given the chance?
Which cartoon character would you say you resemble most?
What's the worst joke you've ever had?
Have you ever pretended to laugh at a stale joke?
What is your best random food combination?
What are some of the best pranks you've ever pulled off?
Have you ever drunk texted someone and later regretted it?
Which celebrity or artist would you wish was your best friend?
All these questions asked are harmless. Ask them one after the other as the need arises. When asked in the right tone, it could even bring another set of questions. Such are questions that suggest seeing each other again when you feel it's going well.
A good date is one that ends with both parties leaving the venue more at ease than when they came. This is a very key factor as it decides whether there'll be a second date.
Also Read: Nicki Minaj Is Going To Have A Baby