If you were told not to join the bandwagon, I can bet it's not like following the Instagram trend. By now, you need no seer to tell you that Instagram is that social media space you have to jump on. Because of its increased growth, Instagram now has more users than ever. And if you own a lifestyle and fashion business, then you need to know the best way to sell clothes on Instagram.
Selling on Instagram is a trending process among lifestyle business owners. With 1 billion monthly active users, Instagram is one of the most popular social networking platforms in the world. Its features are unique and allow for easier posting process. But not just these, it is an interesting platform to be. So, any lifestyle business owner should be on Instagram. As they say, it's the happening place on social media to sell and buy.
So, wait no further. Besides, doing business without an Instagram account is like an obvious waste. But you need the know-how to sell on the platform. This will help you from getting drowned by several millions of daily users.
Best Way To Sell Clothes On Instagram: 7 Main Tips
Key Into The Niche That Sells And Love It
In the real sense of it, there's always a market for every niche. But some are just more sellable than the others. And a good example of this is the fashion niche. This niche enables you sell clothes among other things. Instagram is a social medium that focuses more on visuals. So, users may prefer to watch and see than to read. It'll be easier then to sell products than services. Although, services can also be posted using creative content.
So, selling clothes is a good choice. Because clothes are products with appealing visuals, it will sell well on social media. You only need to know the best way to sell clothes on Instagram and you've got yourself a gold mine. In as much as you love what you sell, then you are in for a great time. This is because you'll have a more creative and passionate way of presenting your clothes to your followers and customers. Then you can bet it that this is one of the best ways to sell clothes on Instagram.
And oh, wait. It's not a problem if you're already in a niche that doesn't need plenty of visuals. Other factors also come to play in selling on Instagram. So, you're covered. Your passion for any niche you choose will go a long way.
Optimize Your Instagram Business Profile
The Instagram business profile is now like the homepage of a website. As users increase on Instagram, so does competition. And these days, one can easily get the info needed on Instagram too. This is unlike before when Google had all the answers alone. So, what this means is that extra care is needed in designing your Instagram profile. In a simple but beautiful outlay, make your feed appealing enough.
Your Instagram profile page should include a profile photo that can't be ignored. This can be your logo. But because it's all about clothes, you can't go wrong with your personal picture wearing one of your clothes. First, you are your brand's first ambassador. So, wearing it is just great. Also, a beautiful cloth will easily attract even a passerby. It aids easy connection. As they 'meet' the page owner, they also get to see a beautiful dress or blouse as the case may be. Nice strategy, right?
Also, your bio should be well stated. Let it spell out your brand and what you can offer them to enhance their fashion sense. Lastly, include the link to your website. This is where you can add your weblink and followers can do an actual click. When a new customer finds you on Instagram, they'll likely go to your bio page and see your link. This will drive traffic to your site.
Ads Are A Great Way To Sell Clothes On Instagram
This is one of the best ways to sell clothes on Instagram. As you may know already, there are changes to Instagram from time to time. You must fit into the new features to profit you. So, run with what works as your business demands.
After a great business profile on Instagram, you can decide how to use the Ads options available to you. It's in your hands to decide the amount you want to spend and who sees the ads. Also, it's your call to choose where you'd like your ads to appear and for how long. All of these should meet the needs of your business.
Use The Right Hashtags To Sell Clothes On Instagram
Find and use hashtags that fit the fashion industry and target market. The free Instagram analytics in your Instagram app can tell if you attract the right people. Hashtags can make your posts have a wider reach.
Besides, you need to know the trending hashtags per time that fits your post. And the wider your reach, the more your chances of sales. But don't overuse them. You don't want to look like you're out there to spam.
Get High-Quality Photos of Your Clothes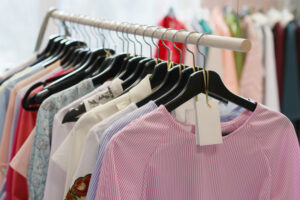 As said earlier, Instagram is a very visual platform. You get to tell your story and sell your products easily through pictures and videos. So, when selling clothes on this platform, you need a clean and clear shot. You may need a little knowledge of photography and editing. You can touch this up via Youtube.
The idea here is to showcase your product in a real-life setting. Get a good shot of your outfits. Pictures speak many words. So, a bad photo may reduce your content. Let the picture make your audience want to see it in real life. Yes, that's the idea. And as you take nice shots, develop the style that will make you stand out.
You may be good at taking amazing shots of clothes you sell om Instagram already. And that's a plus. It is one thing to know how to take great shots. But it's another thing to know how to present them. And this counts. It goes a long way in driving traffic to your posts and ultimately to your website. This becomes your signature as it makes you different among your competitors.
Engage Your Followers
Buyers are an integral part of your business. As a matter of fact, they're why you can sell. And this is one of the reasons they are precious to you and should be treated well. Your buyers are your followers but not necessarily vice versa.
Although selling clothes on Instagram serves a mutual benefit between the seller and buyer but the seller needs the buyer more. The sellers need the followers to sell off their products. So, you need to carry them along. Use engaging content that'll keep them on your page. Part of this content is making relatable posts. And your post captions should call them to action.
Also, engage them through post ideas that'll generate more likes. For instance, you can post on how to combine some colours of clothes. Or how to wear a certain kind of blouse on another type of skirt. This shows them you care and you want them to look gorgeous. In the words of Coco Chanel, "a woman should be two things, classy and fabulous." So, this will mean a lot to them as it's not about just selling your clothes.
Don't forget to reply to their comments as well. The whole idea is for your brand to be noticed. Not just that but to sell on Instagram. So when they ask questions about your brand, answer them as promptly as possible. Even if they don't buy today, they'll buy sometime.
Partner With Influencers
Social media influencers are important to your business. If you have a sizeable budget, the better for you. And since your brand is a physical product, make them use it and testify. Seeing is believing they say. Because they are either popular already or have a large number of followers, people will believe them.
These days, people trust in testimonials than the usual ads. They want to see those that have tested and tried your brand. And on the other hand, if you can't afford an influencer, use your testimonials to sell on Instagram. A testimonial is an endorsement of a product or service from a customer. It also aids credibility.
Imagine a celebrity wearing your brand. Even without a deliberate advert, people will want to get the same clothing. That is the power an influencer wields. They are in a position that can convince people to do something or otherwise. If a social media influencer now wears your brand and goes online to tell people how comfy it is. Or in any form they can speak well of your brand, then you see people ordering the same cloth. It may even be another cloth but from your clothing line, of course.
Those are some of the best ways to sell clothes on Instagram. And this is the time to try these tips as discussed above. The results will be worth it.
Also Read: How To Create The Perfect Instagram Bio For Your Business