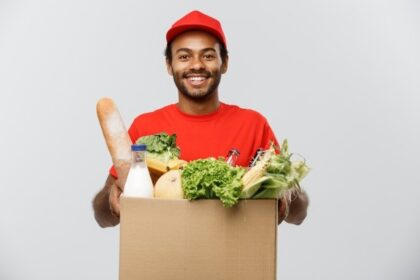 One of the joys of technology is the advent of online shopping. And gone are the days when you had to go through a lot of stress to buy just an item. Since online stores in Africa now exist, one can place an order right from their homes. Let's explore the top 5 online stores in Africa, shall we?
Top Online Stores in Africa
Because of the benefits that online stores offer, Africa has had a fast internet growth rate. So, the rapid growth in internet connectivity has made consumers and producers see the benefits of e-commerce. The major benefit of online stores is the comfort it provides.
As the internet shopping rate rose, so did the demand for devices such as smartphones also increase. Also in Nigeria, many online shopping stores sprang up. And many more are still developing. They offer online shopping and business services to millions of internet users within and abroad.
But, looking at the size of Nigeria, one would expect that there'd be an increase in online consumption. This is however not so. The problem is that many Nigerians still doubt the safety of the online process. And they doubt the security of their accounts while making payment via an e-payment site.
We bring to you some of the biggest online stores in Africa that benefit from the increase in internet usage.
Major Online Stores in Africa
Jumia
Jumia is an online marketplace in Africa known for electronics and fashion. The company is also a logistics service. They enable the purchase and delivery of products from sellers to buyers. Also, they enable a payment service for easier transactions.
Jumia as an online store in Africa was founded in 2012 in Lagos. Jeremy Hodara and Sacha Poignonnec founded Jumia alongside Tunde Kehinde and Raphael Kofi Afaedor. They run the largest online business across Africa with operations in 14 countries. These include Nigeria, Kenya, Morocco, and Egypt.
The site has a  network of over half a million sellers since it started. Also, Jumia has made the impression of being a hub for many products and services. These include retail, food, and hospitality. The services also include hotel and catering industries among others
Konga.com
Konga was also launched in 2012. It is a Nigerian online company with head office in Gbagada, Lagos State. It offers a third-party online marketplace.
Konga has come a long way since its humble start.  It was once a Lagos-only online store that specialized in baby and beauty care. But now, the online store has become a major online retailer.
In 2015, Konga joined forces with leading Nigerian banks. And this gave birth to the launch of KongaPay. It's a safe and easy online payment method to tackle the issue of trust in Africa.
TakeALot
Takealot was called Take2 before it was bought over. It is a South African retailer for buyers that want a stress-free online experience. It was established in the year 2011. As the country's largest online retailer, takealot.com has helped grow online shopping. Also, it was the first local retailer to take part in Black Friday.
As of 2019, over 2500 third-party businesses use the Takealot site to sell to their large number of shoppers. Also, part of what makes them stand out is the latest products they offer. 
BidOrBuy
Bidorbuy was first launched by Andy Higgins in 1999 at the height of the dotcom boom in South Africa. It's also called bidorbuy.co.za. This is an English language e-commerce website. Bidorbuy is one of the oldest online stores. Also, it's auction-based and allows parties to trade with each other. However, Transactions on bid or buy are in South African rand.
Kilimall
This is one of the leading online stores in Africa. It is Kenya's largest online shopping mall. They connect merchants and consumers via the e-commerce marketplace.
Although Kilimall is new in the e-commerce space, it has cut across countries since its launch in 2014. The site is in other countries like Nigeria and Uganda. It has a growing retail customer base.
Kilimall is known for providing electronics such as phones, computers and gadgets. The site also offers other products such as home appliances, clothes, books, health and beauty products, and more. Also, they run a 7-day free return policy on their premium goods. Every customer finds this offer great.
How To Set Up An Online Store
Decide on your brand.
Deciding on a brand is so vital. The brand is the niche that people will know you for.  Whatever you do, try not to imitate another's idea. Also, be original and willing to start new.
Get A Business Name and Register Your Domain Name
Thinking of a business name is the next most important step. It requires you to create a name you may forever bear. So, try to see ahead. Also, ensure that it's a name you'll be proud of in ten years.
Select Products to Sell
Products are key. They are your value for which you hope to get profit. So, make sure that your products are what consumers need and can pay for. No one wants to spend time on a website where they won't find what they want.
Create Your Website with An Online Store Builder
If you want to own an online store in Africa, then you need a website. Without a website, sales are almost impossible. This is where buyers place their orders and make payment.
Create A Payment Method
Think of the best way you can make payment easy for your buyers. That is, put up a means that'll ensure a safe way of paying after an order is placed. When you do this, it'll remove the fear most online consumers have. Once buyers know their accounts are safe, you'll enjoy better sales.
Go Public
This is the last and final step. At this stage, you're good to go. Here, you can begin to operate. But, always take note of the steps that guide your lifestyle business. Also, ensure you have the latest products for sales. Then, you are on your way to becoming one of the big store owners.
Also Read: Did You Know You Could Own An Online Store Without Money? Here's How.