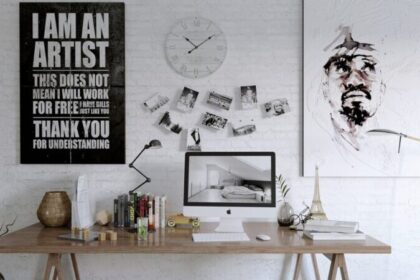 Understanding How To Improve Your Creativity Skills
Creativity helps to change your ideas, imagination and dream into reality. As a creative person, you can see the links between things. You are able to link things that don't seem related, coming up with new ideas that are smart ways of solving problems. These creative skills include curiosity, an open mind, imagination, and being able to solve problems.
Children are encouraged to be creative, more than adults. Just think about it! As a kid, the attention is on art classes and "reaching for the stars". But as you get older, you're told to "get real" and take trusted and tried paths in life. Pursuing creative talents tends to come to a halt when you grow up. At work, creative people don't always have the most supportive environment. They are said to have unusual thoughts and lack the know-how for real business innovation.
How to improve creative skills
How can you improve your creative skills? And work on your talent? What is the place of learning and tutoring? Here are some ways to improve your creative skills.
Learn Through Collaboration.
Do Something You Love.
Find Inspiration From Other Industries.
Unplug (Or Just Do Nothing)
Walk.
Set the Right Mood.
Use the Six Thinking Hats Technique.
Ask For Advice or Feedback.
Find out why daily showers are great for you.
1. Exercising can improve creative skills
It's proven that exercise can increase creative ideas, especially when done without distractions. Try going for a run, or a long walk to clear your mind, work out, or even wander around town. Some companies are including "walking meetings" because they've been shown to be more productive than sitting in the same conference room every day.
In some places, people jog late at night or early in the morning. While in others, exercises have been underrated.
2. Leave your comfort zone
We all tend to build routines, they are easy and comfortable. We visit the same restaurants and friends, see and listen to the same type of movie and music. Try out new things, things as simple as eating a new type of meal, you'll benefit from the exposure. Travel to a new place and take the time to learn about their way of life.
3. Avoid repetitive jobs
Repetitive jobs are those that one does repeatedly over a long time. Whatever it is that you do, ensure that once in a while, you take breaks. The breaks will help you refresh your mind and body.
Sometimes, it is advisable to leave the work environment completely. Also, drink lots of water.
4. Form a creative habit
Since we are creatures of habits, why not take advantage of it and form creative ones? Consider your natural creative processes and take advantage of them. For example, what time of the day are you most creative? Do you function better under dimmed or full light, natural or artificial light? You can take it a step further and participate in a daily ritual to stimulate your creativity muscles. Try any of these popular methods and stick to one that works best for you:
Practice yoga with breath exercise
Listen to new and intriguing music
Read books on captivating topics
Speak with family and friends on the phone
Take a power nap to energise yourself
drink your favourite beverage or cereal when you wake up
Visit interesting websites for short periods to refresh your mind
Keep a diary and write regularly for its healing effect
Get a healthy dose of sleep, for your body to be fully rested
Have a bubble or salt bath