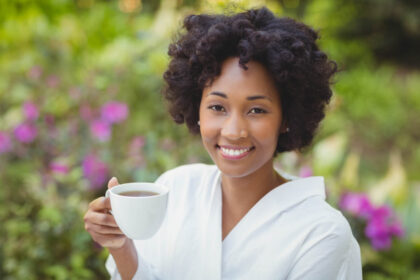 The word Inspire comes from the Latin word that means to inflame or to blow in to. When you inspire something, it is as if you are blowing air over a low flame to make it grow. A film can be inspired by a true story. Studying for your test will inspire confidence in you. Successful people often have a role model who inspired them to greatness.
Inspiration might mean some things. It might mean the process of being mentally stimulated to do or feel something, especially something creative. Others feel it is a feeling of enthusiasm you get from someone or something, which gives you new and creative ideas. Again, some think it is an inspiring or animating action or influence.  But, others think it is a divine influence or action on a person believed to qualify him or her to receive and communicate sacred revelation. The excitement of the mind or emotions to a high level of feeling or activity.
Relating inspiration to creativity is not a new subject. People have been made to believe that there are supernatural forces. These forces are responsible for how and what we think of. This is not to debunk this claim. Inspiration indeed comes from forces unseen.
Before delving into how to stay inspired, having a little knowledge of how to develop inspiration will do us no harm. The essence is this. You can only sustain what you have.
How to Stay Inspired After Discovering Inspiration
Step 1. Observe your surroundings
To become inspired, you need to observe your surroundings.  As we mentioned before, opportunities to become inspired are happening all the time, you just need to be aware of them.  So instead of texting with your friend on the phone or checking Facebook, try observing your surroundings.  Look around, watch what other people are doing, and get involved.
Step 2. Tap into your emotions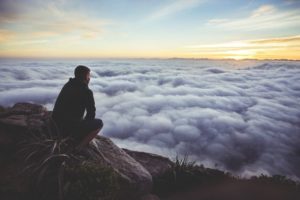 You'll also need to tap into your emotions on how you feel when you see things happening. If something makes you feel good, motivated, and inspired, then do it.
But for many of us, it can be hard to properly express our emotions. We tend to either keep our emotions bottled up and not show them to anyone, or they overflow and spill out in unhealthy and unexpected ways.
In our society, emotions are often seen as a sign of weakness. They are viewed as the opposite of "rationality" and "intelligence," and this stigma is part of what makes it difficult for people to express their emotional selves. We don't want to be seen as weak.
Step 3. Take action
The moment you feel inspired, take action immediately. But, don't wait a minute, day, or week to get started.  If you feel inspired to learn something, sign up for a class right away.  Nevertheless, if you feel inspired to do something, send an email to someone who can help you get started.
Step 4. Start small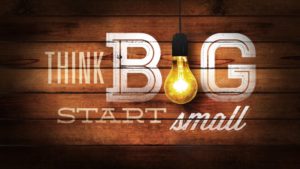 Think big, Start Small
Source: Google Images
If you're just starting to tap into your inspiration, start small.  Gandhi, Mother Theresa, Eisenstein didn't change the world in a day.  They made small changes and slowly built on it.
How To Stay Inspired at Work and In Life
1. Practice your social skills.
Health isn't just physical, it's also mental. They coincide with each other. For example, stress has physical effects (headaches, chest pains, ext.) on the body that social interactions can help reduce.
All people need social interaction for this reason. People who have fewer social ties have been found to have higher rates of health problems, including heart disease, cancer, and impaired immune function.
Even if you're an introvert, social interactions tie into inspiration. And just like with any skill, being social is something you can practice at work events, networking events, and lunch with coworkers.
If you're ever experiencing burn out at work, talking to co-workers or taking time to forge connections at networking events has been found to release pain-killing endorphins. Being able to voice things with other people also helps you rationalize situations, which keeps you mentally healthy and in turn increases inspiration.
2. Cut out empty calories.
Every year 11 million deaths are linked to bad diets across the world.
Your organs and tissues need proper nutrition to work effectively, and without good nutrition, you're more prone to:
Irritability
Lower energy levels
Reduced ability to think clearly
Decreased ability to perform your job effectively
Higher levels of stress and depression
Decreased productivity
If you're suffering from any of that, how could you possibly be motivated?
But don't freak out! The main thing to focus on is balance. Don't overindulge in one food group, try to eat veggies every other day, and avoid empty calories. It's also important to remember that empty calories often disguise themselves as "healthy foods," and bring you down instead of building you up.
3. Take time to learn new things.
Are you taking time out of your day to learn something new? Most CEOs and executives read 4-5 books per month. This means that the people who reach those successful positions see the value of continual learning.
And here's the thing, you don't have to learn about work-related things. Look at topics that pique your interest: Health, science, businesses, finance, film, comedy, etc. You'll be surprised at what you can take from one area and apply it to another.
4. Stay active.
Around 250,000 deaths a year are related to not exercising. A sedentary lifestyle is worse for you than smoking or having heart disease.
Exercise is also important because it produces serotonin and dopamine, the hormones that give you a rush of happiness, along with other great benefits. Fun fact: Dopamine is the same endorphin released whenever you accomplish a task and the same that creates highs from alcohol and drugs.
5. Paint a bigger picture.
Understanding the big picture makes small tedious tasks feel more important. For example, have you ever had to go through spreadsheet after spreadsheet of pulling together information that, at the moment, seemed pointless?
Most of us have experienced this feeling—but what you might not realize is that the information you're collecting is what your supervisor will use to increase budgets, get the team raises, and show if something is working or not.
Also read 10 Inspirational Quotes From Media Entrepreneur, Mo Abudu.