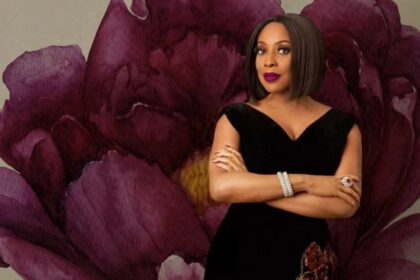 Mosunmola Abudu, popularly known as Mo Abudu is an accomplished woman. She has been described as "Africa's most successful woman" by Forbes. Regarding what she does, Abudu is a talk show hostess, TV producer, and a human resource management consultant. Not only that, but she is also a media personality. Mo is an entrepreneur, venture capitalist, and philanthropist.
About Mo Abudu
Nevertheless, Mo Abudu is an entrepreneur with a predilection for television. In 2013, she launched EbonyLife TV, Africa's first global black entertainment and lifestyle network. Her primary goal for the channel was to create a more positive narrative around Africa. What followed was a string of inspirational series. This includes The Governor, about Nigeria's first female state governor; Desperate Housewives Africa, based on Disney's original series.  Then she had Sons of the Caliphate, a drama about the rivalry between rich and powerful families in northern Nigeria. Again, she did Castle & Castle, Africa's first premium legal series among others.
However, In 2016, Abudu produced The Wedding Party, directed by Kemi Adetiba.  It starred Adesua Etomi, Banky Wellington, and Richard Mofe Damijo. The likes of  Sola Sobowale, Iretiola Doyle, Alibaba Akporobome, and Zainab Balogun were not left out. Beverly Naya, Somkele Iyamah, and Stephen Damien were also present. The Wedding Party premiered at The Toronto International Film Festival in 2016. It later became the highest-grossing title of all time at the Nigerian box office. In 2017, The Wedding Party was acquired by Netflix.
The CEO of Ebony Life Films, Mo Abudu Has Come A Really Long Way
As CEO of EbonyLife Media, Abudu has made her mark through various endeavours in the corporate world. Forbes described her as "Africa's Most Successful Woman". But, CNN said she was "Africa's Queen of Media who conquered the continent." Abudu oversees all five divisions of EbonyLife Media. This includes EbonyLife TV, EbonyLife Films, EbonyLife ON, EbonyLife Studios, and EbonyLife Productions Limited (UK).  Mo Abudu intends to have EbonyLife Place. This will be a luxury entertainment resort that will feature a boutique hotel, gourmet restaurant, and luxury 5-screen multiplex in the heart of Victoria Island in Lagos.
Below are 10 inspirational quotes from Mo Abudu, compiled by Hustle Africa
1. "If you can think it, you can do it."
2. "Partnership Is Crucial To Building A Successful Business. No Man Is An Island Unto Himself"
3. "The Key To Success Is Being Absolutely Consistent Over A Prolonged Period Of Time"
4. "Prayer Is A Key Element To Achieving Success. God Can Take You Where You Want To Go And Where You Need To Be"
5. "Discipline Is What Keeps Us Going When Times Are Tough And Not Going Our Way. We Must Constantly Practice And Believe In Our Purpose"
6. "Your Health Is Priority. Good Health Equates Sound Mind: Sound Mind Equates Brilliant Ideas: Brilliant Ideas Equates A Successful Business"
7. " Competiton Is The Keen Cutting Edge Of Business. Respect Your Competition, But Never Fear Them"
8. " One Of The Major Keys To Success Is To Keep Moving Forward On The Journey. Because Success Is A Journey, Not A Destination"
9. "Ladies, You Maybe Operating In A Man's World, But Always Retain Your Feminity. It Is A Special Gift From God"
10. "Always Remember That People Judge You Based On Their Own Standards, So Always Look Carefully At Those Judging You"
Moreover, the EbonyLife TV CEO was appointed as the chairperson of the 47th International Emmy Awards Gala. She joined a long list of accomplished media moguls to chair this gala. This exclusive list includes Adriana Cisneros, the Venezuelan CEO of Grupo Cisneros. Elisabeth Murdoch, media executive; Charo Santos-Concio, Chief Executive Officer of ABS-CBN is on this list too. Andy Kaplan, ex-president of Sony Pictures Television Networks and chairman of the 45th edition also made the list.