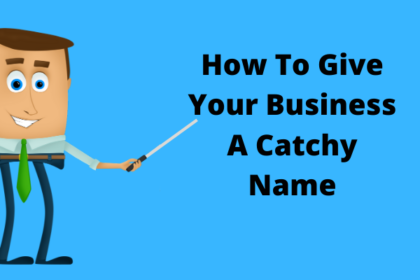 As a new business owner positioning your business for huge success, you'll naturally want a catchy business name. One that immediately gets attention, and keeps the attention. But you may wonder, "how do I come up with a catchy business name?" This is why we will be showing you the perfect strategy for coming up with a business name. Read on to find out how to come up with lifestyle business names.
Why is your business name important? It's the first impression people get of your business. And as you know, first impressions are important. Also, your business name is your identity. It's the first thing people notice about you even before they meet you.
This is more reason you should make use of cool name ideas that will linger in people's memories. There are some names you hear once and can't ever forget again. The reason is because the name is simple, catchy and even short. And another factor is that the business name suits the service being rendered.
How Do I Come Up With A Catchy Business Name: Strategy To Use
Use acronyms
Be inspired by history and literature
Use your name
Mix things up
Partner with another company
Leverage nicknames
Use a symbol
Make it descriptive
Use local languages
View the business from other angles
Abbreviate
Tweak the spelling
Tell your story
Talk about what you believe in
Pick a word from the dictionary
Use acronyms
Many big corporations use acronyms instead of their full names. And this makes it easier to remember. Take AIT (Africa Independent Television) or GTB (Guaranty Trust Bank), for example. So, if your business is called 'Adegoke Consulting Services,' you might consider using the name ACS. Not many people will recall the full name. So, the shorter the better.
Get inspired by history and literature
Nike is one of the most iconic brands. And in Greek mythology, she's the goddess of victory. Other well-known companies like Oracle, Hermés, and Mars have mythological names, too. So, do some research and see if there's a historical figure that's relevant to your company. When you create a business name around history, it resonates more easily.
Use your name
It's your business so why not use your name? Many huge brands use the founder's name – like Linda Ikeji Media and the Oprah Winfrey Network. You can never go wrong with this. If you ever ponder on how to come up with a catchy business name, then use your name. That's a cool name idea there. Also, naming your business after you is a great lifestyle business name concept. As people mention your name, they also remember your brand. What an easy advertising channel you have there.
Mix things up
A nice blend of letters, numbers and symbols can produce a catchy business name. You can use them in a way that will promote memorability. And this is one of the aims of having a catchy business name. Whether it's your name, your favourite city or two of your core services, you can still combine them.
Partnerships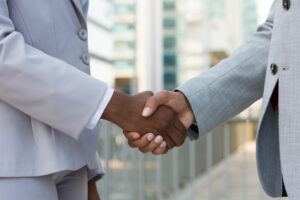 Going into partnership to achieve a cool name idea is also great for your business. The best example of this is that of Diamond and Access Banks. If you're partnering with another business or merging with another company, a blend of both names will be ideal. Take a part of each business name and create a new one. So when customers  hear the new name, they'll easily know its a merger of the old two businesses.
Nicknames Can Be Used To Create A Catchy Business Name
Have you come across someone in real life but didn't know it's the same person you've heard about all along? Yes, it happens. And part of the reasons is because such people go by their nicknames and the nickname has become a household name. So, when they get introduced by their real names, you'd not know them.
Some people's nicknames are just more popular than their real names.  If you're one of them, use this as your company's name for a personal touch. Or, use a child's name or nickname for a sentimental (and impactful) brand name.
Use a symbol
One other great strategy for coming up with a business name is to use a symbol or an essential element of your work. Names like these communicate the business and are not easily forgotten. That's a win-win for your small business.
More Ideas To Create A Catchy Business Name
Make it descriptive
Just as the name suggests, use names that describe what you do or a part of your mode of operation. When you think about your business, what are the words that describe it best? Write down all of your options, and visualize how these words can fit into your new logo or banner. Consider 7-Eleven: the name instantly tells you what's special about their business (they're open from 7 AM-11 PM every day).
Local languages
All that time learning local languages at school were not a waste. Now you can prove it. Names like Ediye, Were and Alara are all crafted from Nigerian local languages. We all know that people identify with their culture easily. And language is a core part of culture. This will add a positive sentiment to your business.
Look at your business with new eyes
Take a step back from your business. Does your product or service remind you of something else? Maybe you're starting a cosmetics company, and notice that your makeup palettes look like flowers. You could use that in a name.
Abbreviate
A great business name shouldn't be too long. As a matter of fact, it's easier to remember a short name than a long one. If there's a word or phrase that has a strong meaning to you, then you can use it. Think about using part of it for your brand name.
Tweak the spelling
Remove or add a letter, or completely change the spelling of a well-known word to make your business name more attention-grabbing. Take Flickr and Tumblr, for example – these brands dropped the "e" at the end to create concise, eye-catching names.
You can as well choose a word that's essential for your company and invent a new way to spell it, as Reebok did. The athletic brand was inspired by the word "rhebok," an African antelope. The whole idea is to play with words and their spellings to suit you.
Tell Your Story To Create A Business Name
Nothing beats storytelling in branding. Does your business have a great story behind it? Why not tell it with your business name? A name like Virgin (the founders' way of saying they were completely new to the business) was born this way. Since stories are part of us and serve as a way of telling business experiences, use them to your advantage.
Talk about what you believe in
Use your business name as a way to remind yourself (and your employees and customers) what you believe in. A name like "Nomad" instantly conjures thoughts of travel and adventure. This is catchy, right? Before they meet you or patronise you, they already know what you are into.
Pick a word from the dictionary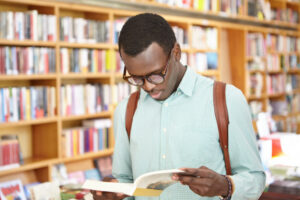 If none of these ideas has inspired you yet, take a page from Twitter's book and choose a random word from the dictionary. Check out the word and see how it relates to you. If it does, then you have a lifestyle business name already.
How To Come Up With A Catchy Business Name: Major Features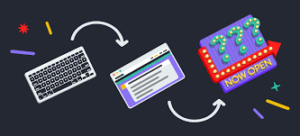 Original
Future-proof
User-friendly
Available (in some form)
Lovable
Make it original
Being original is hard, but it's important for your new business. And we should never be afraid to stand out anyway. And of course, you wouldn't want people to confuse you with another brand. This is why you must be genuine and unique. And as a new startup, your name needs to compel people to sit up and take notice.
To generate ideas, read books. Explore wordplay. Something will come that resonates with you.
Make it future-proof
You don't want to create a name that sabotages your future expansion plans or limits your reach. Let's say your company makes women's shoes, but you think you'll eventually try to crack the male market. Having a name like Goddess Heels by Fiona won't be helpful. Even from the present, think of the future.
Think about your company's story, values, and key differentiators as you brainstorm. How would you describe your company to others? What are you trying to accomplish? What feelings do you want to evoke in your customers? Also, what adjectives come to mind when you think about your business? What do you do differently? Grab a piece of paper and a pen and start writing it all down.
A Catchy Business Name Should Be User-friendly
It's important to choose a name that's easy to say, spell, and type into Google. It does not matter if it's a made-up word. That is, think of your customers while creating a business name. This matters a lot. Choosing a name that helps people find you quickly can put you ahead of the game. And remember: if customers can't find you, they'll end up finding someone else!
If it's all too much and you don't mind paying, there are online companies that generate business names for a fee.
Also read: 4 Reasons Why Your Business Needs A Strong Brand Name