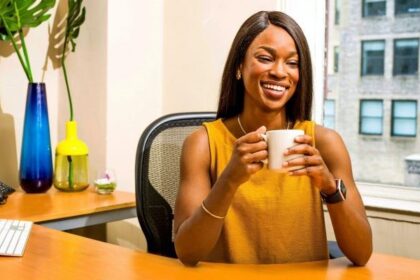 The benefits of working remotely from a home office are more apparent because of the COVID-19 pandemic. As juicy as it sounds though, working remotely comes with its own challenges. You will need to have a conducive environment to make your work efficient and effective. That's why we've put together 7 tips for setting up a home office for remote work.
How To Set Up A Home Office for Remote Work.
Location is everything
Getting the right location for your home office is central to everything else. If your home office was an octopus, consider it as the head, and everything else the tentacles. The location you choose should have enough space for your office tools, filings, and easy movement. Studies have shown that natural light aids productivity, so it should be well lit. Your location, to a large extent, should shield you from the distractions of personal life when you're on professional duties.
Comfort is key when setting up a home office
There really is no use setting up a home office remote work and being unable to work due to discomfort. Your set-up should emphasize comfort for you, comfort that aids efficiency, like ergonomic chairs. They provide height adjustment, support for your back and arm, and a 360-degree swivel to aid easy movement. You need to be able to work with minimal disturbance, especially the discomfort of a faulty table or a lopsided chair. Even your tools should be comfortable. Get a mouse or a trackpad as an alternative to your touchpad. This will help avoid straining your fingertips and the bottom of your palms.
Proper Communication/ Internet Connectivity
You might not be at work, but your work shouldn't suffer for it. Regardless of where you are, you have to have a communication system to stay connected. Emails and phone calls have to be sent/made and received. You will also have to do video conferencing, webinars and sheets have to be exchanged. Set up a VPN link if using a shared network, so as not to compromise the safety of your data. Zoom has been all the rage lately. You might want to set up an account.
Liven Up Yourself!
In the words of Bob Marley, you need to "lively up yourself", meaning to be full of life or vigour. In setting up your home office for remote work, sprinkle your right amount of "sunshine".  This will keep you energised and give you ownership of your space. Surround your workplace with things that will inspire and brighten you.  Your favourite painting, family pictures, your pot plants or an amazing desk toy. 
It's All In The Cloud
You will need access to your files and document regardless of your location at any point in time. The easiest way to ensure this will be to place your documents in the cloud. With this, you can access them remotely anywhere. This makes it easy for sharing and updates on documents. It also reduces the risk of data loss, as they are safe within the cloud. 
Clutter and Declutter
Your home office for remote work may not be entirely free from paper trail. When taking video meetings, files, charts and graphs might be brought out and your workspace cluttered in the process. Don't panic, just make sure you declutter as soon as possible, to maintain that positive energy around your workspace. Invest in quality drawers and filing cabinets for storage. You can go creative and turn an old wardrobe into something useful and fun. Don't forget to create a sort of filing system so as to easily remember where everything is. This will help you avoid wasting time looking for everything, every time!
Timing is important when you're setting up a home office
Don't just sit down all through, get up and exercise those legs once in a while. You would need to be able to keep track of time to do that though. Also, keeping track of your official office hours is essential, so as to separate it from your personal time. So get a table alarm clock or a wall clock, that allows you to track and effectively use time.
Now that you have gone through our tips for setting up your home office for your remote work, start implementing! You will be amazed at the quality of work you churn out when your workspace is inspiring. Here's wishing you more productivity and efficiency at your work.
Also read: 4 Reasons Why Your Business Needs A Strong Brand Name